Welcome to our food pantry.
This is where we keep our groceries. It is always our hope to keep the shelves full. Keeping bags of food made ahead of time makes it easier when people come in to pick them up. Unfortunately, sometimes the shelves are almost bare. This makes it harder for us to feed those who are hungry.
When we have it to give out, this is what goes into a pantry bag.
| | |
| --- | --- |
| | |
Today we are very fortunate. A church brought food and bread. Our volunteers, and our staff, feel like it is Christmas time already. What a nice feeling.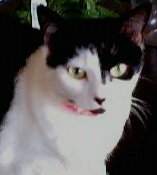 "Don't we always have a lot of groceries?", Gracie asks. Let's go find out. Click on her picture above, to continue our tour.
To go home: